To all the directors, you're casting for the role of an idealistic lawyer? Call Rajkummar Rao. A corrupted cop? You call Rajkummar Rao. A romantic but shy lover boy? You call Rajkummar Rao. A nice and sweet shop owner? You call nobody else but Rajkummar Rao! The Judgemental Hai Kya actor holds a Ph. D in nailing every character to perfection, and doesn't settle for anything less. If you have to prepare a list of actors who have made their versatile performances as their business card, I bet Rao tops it hands-down, no objections there whatsoever. For Raj, you fly. Always. 
So it came as no surprise that when Rajkummar was cast in Bareilly Ki Barfi cast alongside Kriti Sanon and Ayushmann Khurrana, it was him who stood out as the 'Badass Babua.' Here, check out these five best moments from BKB that made us whistle for our star till the end!   
1. When he oscillates between the uncouth goon harassing the waiter by asking him 'kaun poochega kya lijiyega?' to the nervous Vidrohi ji asking, 'theek tha bhaiya? – we all agreed with Ayushmann when he replied saying Lalla, baaja phad diye tume! 2. When he turns with a wide grin and says, 'Bhaiya, rangbaaz log dekhte he nahi hai.' 3. That scene where Rajkummar is trying to follow Ayushmann's instruction in the middle of the road – where he stops the traffic, stuffs a meetha paan and gives THE look – did someone say badass?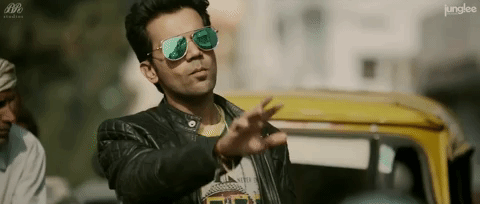 4. When Vidrohi ji enters Bitti's house and tells her father 'Aajao aajao uncle, aap he ka ghar hai na. Kiraye pet oh nahi liya?' and goes 'Laxmi ji ki kripa se paisa toh itna hai ki aap he ki dukaan khareed ke aap he ko gift karde' – total boss scenes bruh! 5. "Agar shakal dekh ke shaadi karte na, toh Hindustan me aadhe ladke kaware hote, Babua. Bitti ko toh hum le jaenge, bol liye" – killer words have never been spoken! Kabhi Bareilly aaega, toh jhumka dhundhne me time waste na karke, barfi khaega! 
Missed watching the film in theatres? Catch Bareilly ki Barfi streaming on ZEE5 now!